Homecoming 2023
All that you need to know about our 2023 Homecoming events for the week of September 4-8. Go Warriors!
Homecoming Football Game
Friday, Sept. 8. Warriors take on Woodward. Kick off 7 p.m. Purchase tickets here.
Powder Puff Game Kicks off the Week
The Junior Class and GHS Administrative Team will be hosting the annual Powder Puff game on Monday, Sept. 4 at 6 p.m. at Jim Brown Stadium. This event is open to the public. Tickets are $5 and sold starting Monday. Purchase Tickets here.
Pep Rally - Friday, Sept. 8
START moving at GHS: 8:30 a.m.

GMS: 8:45 a.m.

SES: 9:15 a.m.

MC: 9:45 a.m.
Homecoming Float Competition
HS Class float competition will be tied to the theme of Blockbuster Movies
Top Gun - Seniors

Cars- Juniors

Ghostbusters- Sophomores

Frozen- Freshman
Float winners will be announced at halftime of the football game.
Homecoming Parade
Friday, Sept. 8 at 5:30 p.m.
Parade Route: SES entrance on Linton Road (across State Route 28) to Old State Route 28 (Main Street) to Goshen Road to GMS parking lot.

Notice: Warrior Way and Linton Road entrances to Spaulding are closed at 4:15 p.m.

If you have a group that would like to be in the parade, call Mrs. Hadley (513-837-2443) or email Mrs. Gatio-gatioh@goshenlocalschools.org to reserve your group's spot.

This year's Grand Marshals are Doug and Tara Widner
Homecoming Court
King and Queen will be announced at halftime of the football game. Purchase game tickets here.
Homecoming Dance, Saturday, Sept. 9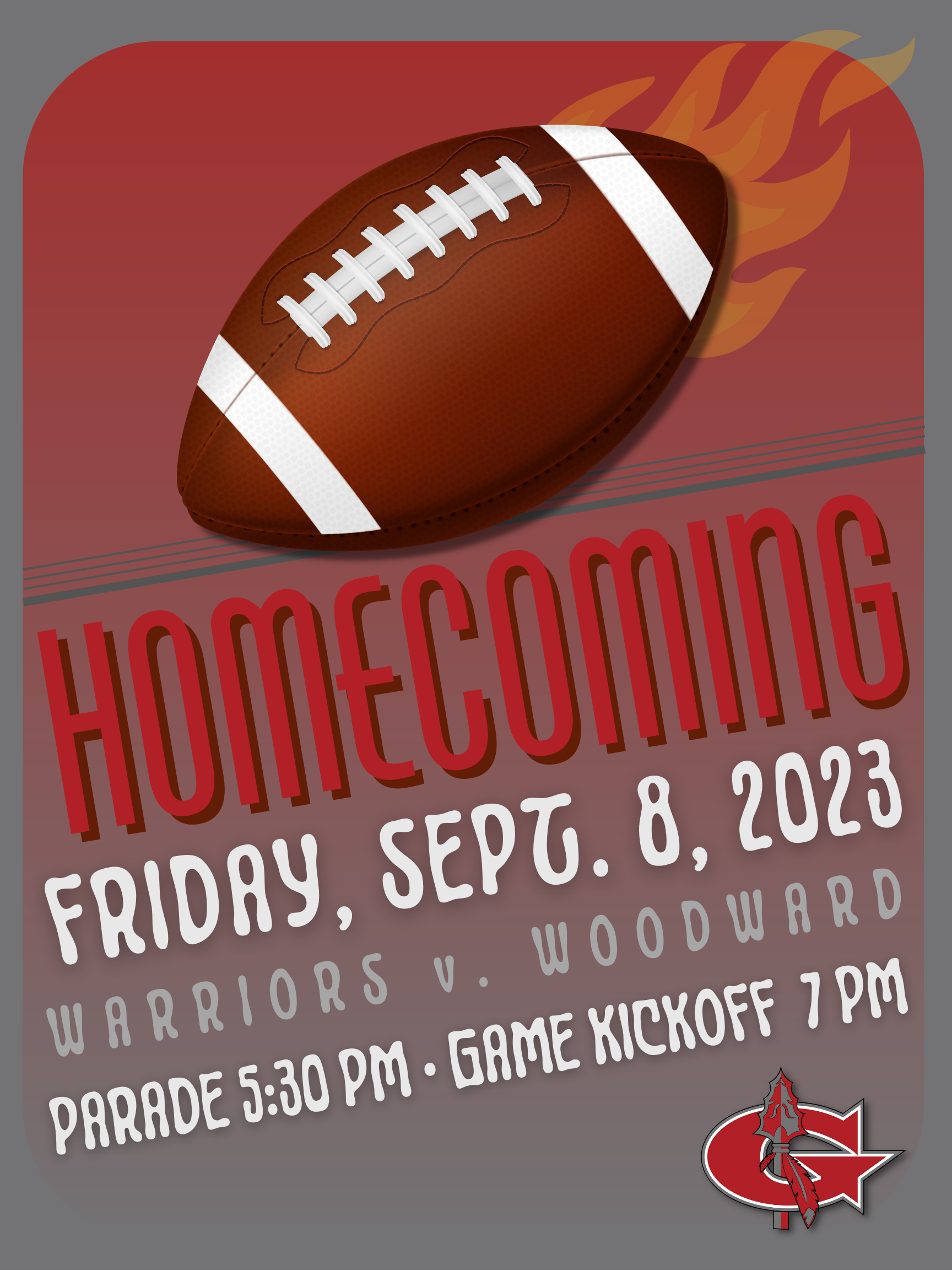 Homecoming Spirit Week (Sept. 4-8) These are different by building as themes are selected by the HS Student Council for High School use and adapted by each building for younger students.
GHS
Monday, Sept. 4
No school- Labor Day
Tuesday, Sept. 5
Roll out of Bed Day
Wednesday, Sept. 6
Generation Day
Seniors: Dress like senior citizens

Juniors: Dress like your parents

Sophomores: Dress like you are in college

Freshmen: Dress like a baby
Thursday, Sept. 7
Class Color Day
Seniors: Black

Juniors: Hot Pink

Sophomores: Orange

Freshman: Purple
Friday, Sept. 8
Red & Gray Day
GMS
Monday, Sept. 4
No school- Labor Day
Tuesday, Sept. 5
Roll out of Bed Day
Wednesday, Sept. 6
Dress Your Best- Picture Day
Thursday, Sept. 7
Twin Day
Friday, Sept. 8
Red & Gray Day
Spaulding & Marr/Cook
Monday, Sept. 4
No school- Labor Day
Tuesday, Sept. 5
Spaulding- Roll out of Bed Day
Marr/Cook-Dress Your Best- Picture Day
Wednesday, Sept. 6
Wacky Wednesday
Thursday, Sept. 7
Twin Day
Friday, Sept. 8
Red & Gray Day